NEW MODIFIED DUTY AND RETURN-TO-WORK PROGRAMS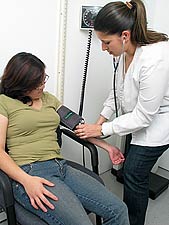 One of our primary goals is to enhance patient recovery and reduce employer costs through our Work Transition Program. Referred to in the insurance industry by such names as "Transitional Work", "Early Return to Work", and "Rehabilitation at Work", our innovative approach utilizes a modified duty schedule to return an injured employee to work much earlier than traditional programs allow. In addition to the cost savings for the employer, the patient's recovery is enhanced by the positive engagement in the rehabilitation process:
85% of patients successfully return to work.
Disability days are decreased.
The "sick role" mentality is eliminated.
Actual work, in the patient's own familiar work setting, becomes the rehabilitation medium.
A positive focus is placed on the patient's abilities.
Experienced staff members will not remain off the job for long periods of time.
The patient remains connected and in the routine of working.
Some level of productivity is maintained for both the patient and the employer.
The program's term is usually a short 60 days.
Safe work methods are promoted and proper body mechanics are reinforced to the patient while working.
Patients are encouraged to obtain meaningful, positive work assignments.
Consistent treatment of patients is promoted.
The program allows our attending physician to give frequent updates to the employer on the patient's progress.
Patients receive progressively expanded work assignments, in conjunction with their recovery, until they have reached their pre-injury capacity.
SPECIALISTS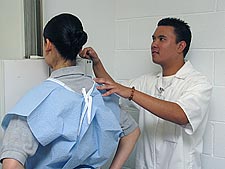 When necessary, we will refer a patient to an appropriate specialist. Our specialists are an indispensable part of our team and represent the following fields of medicine:
General Surgery
Internal Medicine
Neurology
Obstetrics and Gynecology
Opthalmology
Orthopedics
Physical/Medical Rehabilitation
Podiatry
Reconstructive Surgery
PHYSICAL THERAPY
A full-service physical therapy facility is located on site.
FREE TRANSPORTATION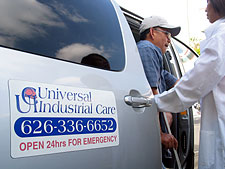 Universal Industrial Care provides free round-trip transportation for your injured employees on their initial visit to our clinic. Our area of service includes the following cities:
Baldwin Park
Covina
El Monte
Hacienda Heights
Industry
Irwindale
La Habra Heights
La Puente

Monrovia
Montebello
Rowland Heights
South El Monte
Walnut
West Covina
Whittier
PHYSICALS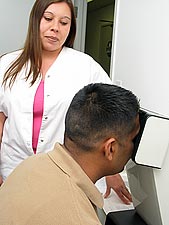 We offer a full array of physical examinations, including pre-employment physicals, basic examinations, D.O.T. exams, annual exams, and return-to-work physicals. Other exams we offer include:
Comprehensive vision testing
Audiometric testing
Spirometry
EKG

Respiratory fit exam
Asbestos B X-rays
Carpal tunnel syndrome evaluation
DRUG TESTING
We are a certified Medical Review Office (M.R.O.) and perform our drug screens following a legal chain-of-custody procedure. We offer both NIDA and non-NIDA drug screens.
BREATH ALCOHOL TESTING (B.A.T.)
We perform breath alcohol tests using the Alcomonitor CC by Intoximeters. It provides fully confirmed results within fifteen minutes and is approved by the National Highway Traffic Safety Administration. Our B.A.T. protocols meet all of the requirements of the Department of Transportation.